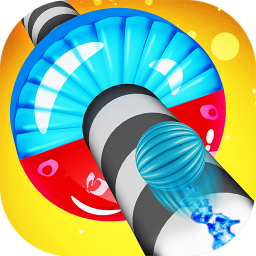 Helix Road : color ball rush
Are you ready for a new challenge?
we bring you a highly challenging and addictive ball game. Helix Road: color ball rush– It's a color candy style of the ball games. This color bump game is a new adventure arcade 3D game to test your motor skills. Get a Jump on for install it.
No more boredom now. Get your hands on the best smashing color ball game and start achieving high scores. This tap game has easy finger touch control to maneuver the color ball. Push the ball forward through rotating spiral road made of candy using your skills. Let the ball smash through the coloured walls. Don't let it crush!
The hyper-casual mobile speedball game gives the experience of the sky race. Avoid the obstacles along the ball journey. Align your speed on the safe color area to avoid splat. The ball crashes when hitting the wrong color candy wall and the game will be over. Do not knock the ball up and avoid roadblocks for the high score.
Endless and infinite ball race is insanely entertaining for the users to fill their adventure soul. Take risks, go for the high speed and shatter the candies. Speed up and collect eggs and diamonds along the way. Compete with your friends in the epic clash. The key is to time the ball speed. Brace yourself, roll the ball, make the ball hit the right color timely and have endless fun. Think fast, get set and roll fast into the color road, an exciting adventure speed race ball through the speed bump road. Speed up and complete helix maze and level with ball journey.
Simple controls just slide the fingers right and left for the helix rotation and bump of the ball. Try to avoid the odd color spots helix and let the ball pass. Complete challenges and unlock the achievements in helix color ball game. Choose from various balls and play with your lucky ball in the 3D candy color helix game.
It's your new Color ball rush. It takes focus and concentration and once you become pro at, it becomes your leisure time buddy. Beware of the addiction.
Features of Helix road: color ball rush
easy finger touch control
Beautiful and cool 3D graphics and background
Endless gameplay
Suitable for all ages
Remove Ads
Online Leaderboards
Brain training color recognition
بخشی از حجم دانلود فایل این بازی متعلق به فایل دیتای آن است که به صورت اتوماتیک دانلود و نصب خواهد شد. این بازی جهت اجرا به این فایل‌های دیتا نیاز دارد که مایکت به صورت اتوماتیک فرآیند نصب آنها را انجام خواهد داد.