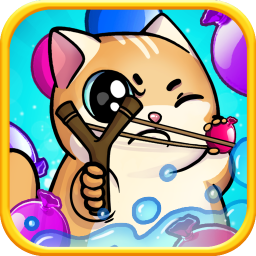 CUTE WARS PUZZLE BATTLE – Cats vs Dogs Match 3
Download for FREE 'CUTE WARS PUZZLE BATTLE – Cats vs Dogs Match 3 ', and start joining balloons to beat your opponents in this addictive challenge of mental agility!
Join together balloons in the different battle fields to force explosions that are more powerful every time, before running out of lives.
Join 3 balloons or more with the same colour to combine the power and perform more powerful attacks. Create chain reactions, and if you clean the whole board, get ready to beat your rivals in all the other levels!
'CUTE WARS PUZZLE BATTLE' comes for FREE, but you can accelerate your progression with some in-app purchases.
Are you ready for 'CUTE WARS PUZZLE BATTLE'?
√ Play online against rivals of the opposite faction. Choose what side you want to be in the millenary battle with our nice protagonists.
√ Enjoy an addictive gameplay from the first time. Join 3 balloons with the same colour at least to perform attacks in a very funny way.
√ Improve your skills playing in the 8 available levels (more coming soon).
√ Collect more than 15 collars that will give you special and unique skills during your game.
√ Discover what happens when you play with balloons next to a cactus (join 3 balloons nearby to water it).
√ Join the weekly competition and win great prizes.
√ Go up every week in the Cute Leagues until you arrive to Champions League.
√ Get your weekly reward if your faction wins.
√ Collect all the characters you can.
√ Get rewards recruiting your Friends!
√ Play with Mimitos and Shibo, and their friends.
•••••Download CUTE WARS PUZZLE BATTLE – Cats vs Dogs Match 3 by eBabylonGames NOW! •••••
*This game requires Internet connection.
Learn more about eBabylonGames: http://www.ebabylongames.com
Don't miss our latest news:
Become a fan of eBabylonGames: https://www.facebook.com/eBabylonGames/
Follow us on Twitter: @EbabylonGames
Enjoy yourself with CUTE WARS PUZZLE BATTLE – Cats vs Dogs Match 3, a FREE puzzle game but adding the emotion of the multi-player battles!
Bug Fixes and Reducing battery usage
بخشی از حجم دانلود فایل این بازی متعلق به فایل دیتای آن است که به صورت اتوماتیک دانلود و نصب خواهد شد. این بازی جهت اجرا به این فایل‌های دیتا نیاز دارد که مایکت به صورت اتوماتیک فرآیند نصب آنها را انجام خواهد داد.
بقیهٔ برنامه‌های این سازنده