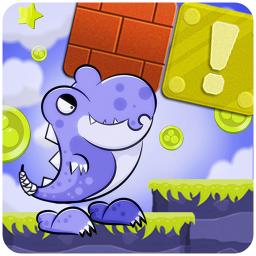 Platform games: Jungle adventures world
Platform games: Jungle adventures world will write the story of Dino's discovery and yourself. Dino is a cute little dinosaur. Dino will become our brave explorer who will explore many areas to look for his father, a jungle boy want to become a treasure hunter. Go with Dino in biggest super jungle adventure!
Enter a world full of fun and adventure from the land of magic to the real nightmare of this jungle adventure.
Platform games: Jungle adventures world has monsters, who always ready to hurt Dino. Remember, Dino will have to face: Bee, Dinosaur, Snails, Snowmen, Monster, Evil ... Do something to help Dino find and save his father before it's too late.
Platform games: Jungle adventures world is a jungle games, is an adventure of Dinosaurs in the jungle is the best platform adventure for your kids everything has been carefully designed for you to have a lot of fun. To bring back Dino's father home safely he set out to go into a deep jungle of super worlds. So help him in his adventure to rescue his Dino's father with this amazing jungle adventure.
Platform games: Jungle adventures world game is this and newest game of this year. Download this legendary free-to-play this Adventure platform game that takes you on an adventure unlike any other! Really good platform games of year.
This jungle's game is one of best jungle adventure, and best platformer games!
Explore the amazing ability of the little dinosaur uncle in this super jungle adventures:
• Dino can jump, throw darts.
• Dino can collect items to improve skills.
• Great items: Magnets- Getting coins from long distances. Supper Shoes - Helps Dino run 25% faster. Shield - Dino cannot be injured for a period of time when facing enemies, spikes. Darts - Dino can throw darts to kill enemies.
• Collect gold coins, jewels, find the tresures to help Dino get the best deal in adventure.
• Run, jump, swim and explore the same land: deep jungle, plateau, volcano, desert, land of death ... in Jungle Adventures: Island Story.
FEATURE:
• Nice graphics, cute.
• Sounds great, and attractive.
• Easy control
• Many levels are ready! And will update constantly.
• 3 secret lands await you to explore in an amazing super world of jungle adventure .
• Addictive and addictive adventure game.
• suitable for all ages, With this game Dino adventure.
HOW TO PLAY
• Visual control.
• Dino controls: run, jump, dart.
• Dino cannot touch enemies, kill enemies with darts.
• Collect all 3 magic stars in each level to pass the next screen.
• ...
Platform games: Jungle adventures world will be your best adventure.
Let us help you feel the world is full of magic in Dino adventure.
Platform games fans, are you ready for this jungle?
* Added missions.
* Fixed bugs: Skip button on some devices.
*....
بخشی از حجم دانلود فایل این بازی متعلق به فایل دیتای آن است که به صورت اتوماتیک دانلود و نصب خواهد شد. این بازی جهت اجرا به این فایل‌های دیتا نیاز دارد که مایکت به صورت اتوماتیک فرآیند نصب آنها را انجام خواهد داد.
بقیهٔ برنامه‌های این سازنده