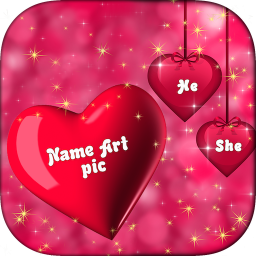 Name Art Pics - Name Maker & Generator app
Name art pics is an amazing app to share your feelings with your loved ones on different occasions.Name art pics is a all category greeting app to wish someone with some cool and beautiful pics and your name on pic.This my Name Pics tool contains happy birthday greetings, birthday cakes, happy anniversary greetings, valentines greetings, Romantic couple greetings, New Year Greetings, friendship cards and best wishes cards for Free. You can choose pics from a wide range of templates. With cool fonts and designs. Now Greet your friends with cards with your and their names.
These cards are specially designed with designers to share your special feelings to your loved ones.This Name art app provide 40+ famous unique stylish Fonts and emojis to make latest focus n filter effect of your loved ones name on different cards to express your love to your loved ones. Wish someone with some cool and beautiful pics and your name on their pic, Download name art pic App now. Create your own card and send it to your loved ones.
Features:
* HD quality card images with message
* Useful for everyone
* Does not require internet for it to work
* Available free to all
* Awesome for greeting cards with 40+ font styles
* Write your name on that selected card pic with colorful text
* Categories such as Couples, Anniversary, Birthday Cake, Best Wishes, Friendship and Happy New year pics.
* All the category contains 15+ Pics with HD pics.
* Download Favorited pics and write name on that pics.
* Add beautiful, romantic and professional stylish stickers to enhance the beauty of your cards.
* Adjustable Font Size facility so that user can re size font according to used.
How to use:
1. Select the category from menu.
2. Choose the pic that best suits you in which you want to write your name and message.
3. Use can rotate, zoom or move your name and text where ever you want in the frame.
4. Double tap to edit the text.
5. Beautify your photo with stickers and write amazing quotes to it with colorful fonts and text.
6. Share your creativity with your friends in Instagram, twitter, Facebook, snapchat, and whats app social media .
7. Set your output as your phone wallpaper.
== Characteristic is as below ==
1. Name Art,
2. Name on Anniversary Pics,
3. Name on Greeting cards,
4. Name on Wedding Pics,
5. Name on Valentine Pics,
6. Name on Birthday Cake Pics,
7. Name on Couple Pics,
8. Name on Best Wishes Pics,
9. Name on Doll Pics,
10. Name on Friendship Pics,
11. Best Wishes cards,
12. Happy Birthday Cards,
13. Happy New Year cards .
Download it today and share your feelings on your special occasions with special designer greeting cards. We're working on lot more free updates for this app, please support us by giving your valuable feedback and share this fun with your friends.
+Added Templates, bokeh effects and gradients.
+Added new Fonts and Text Editor features.
+Added new Bracelets category with huge collection of stylish Bracelets and Locket designs to share your love.
+Added a huge catalogue of stickers collection.
+Added support for A7 & Mi devices
+Added HD Quality for final Photo.
بخشی از حجم دانلود فایل این برنامه متعلق به فایل دیتای آن است که به صورت اتوماتیک دانلود و نصب خواهد شد. این برنامه جهت اجرا به این فایل‌های دیتا نیاز دارد که مایکت به صورت اتوماتیک فرآیند نصب آنها را انجام خواهد داد.
بقیهٔ برنامه‌های این سازنده