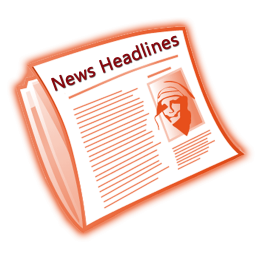 Hot News - News Headlines
Now Join us on facebook community page:
https://www.facebook.com/hotnewsapp
Now you can view your locale news and international news from different news agencies. You will save your time as you will see the news headline and if you wish you can click to read more about it.
Save time and know faster with 'Hot News - News Headlines'
Save your time and read the news in one application instead installing many news apps. We collect for you the news to save your time. Cover all famous news agencies around the world. You can choose from a variety of channels, in native and English Languages.
* View news from Twitter without the need to have an account
* View the news text and load images and news detail only if you choose it
* Save your internet budget plan
* The ability to view news from different sources in one place
* The ability to choose which news channel to load
* The ability to visit links that is provided by news channels
* The ability to share news and links with your friends using any social apps installed on your mobile such as Facebook, Twitter, Viber, etc... and even through SMS
* Support tablets and view the news in details in one window.
How to use:
1- Select region you are interested in reading its news. Regions such as North America, Europe, Middle East, Asia, etc...
2- A sub list of the region is loaded with countires available to norrow your selection.
3- After selecting a country, a list of news agencies in the selected is displayed select what you like to follow.
4- Repeat the steps from 1 to 3 if you want to select another region.
5- To exit the channels selection, simply press back.
6- The news will start loading.
7- Make sure to view the left navigation menu. It offers you selecting more channels, adjust settings and other options.
Don't forget to rate us.
We will be glad to hear from you, so contact us on email and join us on facebook user community :
https://www.facebook.com/hotnewsapp/
- Faster news loading
- improve cache managment
بخشی از حجم دانلود فایل این برنامه متعلق به فایل دیتای آن است که به صورت اتوماتیک دانلود و نصب خواهد شد. این برنامه جهت اجرا به این فایل‌های دیتا نیاز دارد که مایکت به صورت اتوماتیک فرآیند نصب آنها را انجام خواهد داد.
بقیهٔ برنامه‌های این سازنده