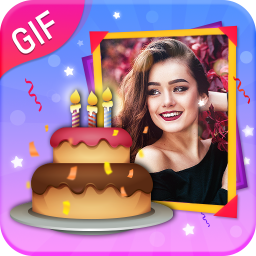 Photo Frames for Birthday - Birthday Song
Photo Frames for Birthday - Birthday Song lets you to add amazing animated birthday frames to your photo and gives gif animation. Simply select a picture from gallery or camera and adjust with in the selected frame. Getting a nice design is the key to make the pretty birthday cakes. Create beautiful birthday frames for your loving ones from existing photos and make the surprise.
Photo Frames for Birthday - Birthday Song have many features. This app is specially created with nice and realistic birthday cakes HD images. Incredibly easy to use, yet highly powerful and has many options to customize and make it personal.
Throw a birthday surprise to remember with one of the amazing birthday animation maker. Surprise your friends and family members with customized birthday maker. You have option to share the image via social network. You can share the birthday songs and Birthday SMS with the dearest ones.
Grab this photo montage and beautify your pictures with Photo Frames for Birthday - Birthday Song . Birthday's are special so capture them and wrap them up with birthday frames for free. Capture any moments using the camera.
Now select the desired Happy Birthday frame for your beloved one's and send birthday wishes to them. See the saved pictures in the Gallery and you can delete the unwanted pictures. Save the images on the cake frames or save with animated GIF frames.
App Features:
* Convert the normal birthday frame to GIF birthday frames
* Choose the picture from gallery or take from camera
* User can choose one frame from multiple frames
* Adjust and fit the picture to the frame
* Pinch or zoomin and zoomout the picture to fit the picture in to the frame
* Click on gif conversion to convert the frame in to gif
* Then selected frame is converted to gif frame and will be saved automatically
* Saved images will be stored directly in to saved images and in gallery
* Swipe the picture to see the saved pictures
* Share Birthday Songs and SMS
* It's working very smoothly
* Delete the picture of your choice
* Save and share the saved pictures via social network
بخشی از حجم دانلود فایل این برنامه متعلق به فایل دیتای آن است که به صورت اتوماتیک دانلود و نصب خواهد شد. این برنامه جهت اجرا به این فایل‌های دیتا نیاز دارد که مایکت به صورت اتوماتیک فرآیند نصب آنها را انجام خواهد داد.
بقیهٔ برنامه‌های این سازنده