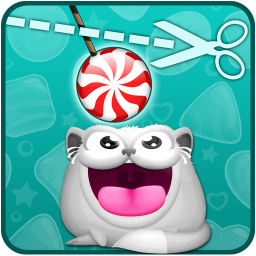 Cut The String
Cut The String comes with a whole new cut ropes game to add on to the very successful series.
Now the cute cat named Cookie is back on your phone, through an endless cutting of the ropes or should we say strings. In this new cut rope/string game, the cute cat -Cookie- is looking to defeat the maze of ropes and strings, to get her striped candy.
Throughout this rope and string game you are going through levels in an attempt to slash the ropes and string maze, and get the striped candy back for the cute cat -Cookie-.
The game is pretty simple, the striped candy swings on ropes and strings through the level and by cutting the rope or string, you are able to move on to the next level.
Pretty simple, but still very addicting.
Highlight running features
- Rich animations and high quality in-game graphics
- Moving background music and ropes and string sound effects
- More than 99+ Levels of obstacles and cutting power-ups
Age rating
Cut The String was created by the best striped candy, wrapped candy and rope escape team to be compatible with all ages.
Enjoy it anywhere
You can enjoy it at a church, or while traveling in a real airplane or a train, also in the subway, or in your car, in school or while running.
It's suitable for everyone; if you're a lover of, adventure or hunting games. You should love Cut The String.
Coming soon
- Candy maker and ginger candy lollipops options
- Cut the rope experiments
- Cut the string experiments
Light cute game
Cut the string doesn't consume data from your device, it was created to be suitable with all kinds of your devices phone or tablet.
Allow us to introduce you to Cookie the Cat who loves Candy! One day, while roaming the neighborhood, Cookie found herself at a candy shop. She snuck in to snoop around and was locked in for the night. Scared, tired and hungry, Cookie nibbled on some peppermint candies she found behind the counter and like a bolt of lightning, Cookie was hooked on candies. She couldn't get enough. So now you can help Cookie out and feed her as much peppermint candies as you can find and figure out how to get it to her.
Collect golden stars along the way or purchase the star packs to unlock more stages and candies. This game is addictively fun and engaging. You can share your high score with your friends. Each stage is harder and harder to solve. Cut The String has innovative physics gameplay and tough puzzle solution gameplay that will keep you engaged for hours.
Cookie the Cat needs your help! Cut The String just right to get her the candy.
Updated the Store text font and prices
بخشی از حجم دانلود فایل این بازی متعلق به فایل دیتای آن است که به صورت اتوماتیک دانلود و نصب خواهد شد. این بازی جهت اجرا به این فایل‌های دیتا نیاز دارد که مایکت به صورت اتوماتیک فرآیند نصب آنها را انجام خواهد داد.