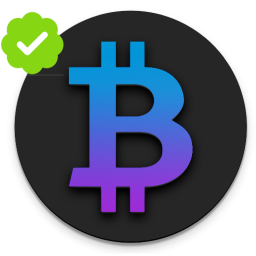 Crypto Pro - Cryptocurrency Portfolio, News, Price
No BS Crypto Tracker for Cryptocurrency portfolio, Crypto Market Cap and Bitcoin / Altcoin price data🎉
Please support us by buying the PRO version
Crypto Pro with Cryptocurrency Portfolio enables you quick and easy access to cryptocurrency prices, market cap, exchange markets, coin details, charts, crypto news, ICO live - upcoming and finished, alerts on over 1000 cryptocurrencies including Bitcoin, Bitcoin Cash, Etherium, Iota, Cardano, Stellar, Ripple, Litecoin & many more.
New🎉
📱Home Screen Widgets for Tracking Crypto Prices
🚀Coin Score & other premium Crypto Info (Upgrade to Pro Version)
Main features:
💼 Crypto Portfolio
💹 Exchange Markets
🌍 Global Data and Chart
🔔 Price Alerts
⭐ Favourite coins
📈 1D/7D Charts
👍👎 Heroes/Zeroes or Gainers/Losers (Top 10)
📰 Aggregated News and Twitter Feed
↓↑ Sort coins by name, price, market cap, 24hchange, 24h Volume
% Percentage Change Period (1h, 24h, 7d)
🔍 Hate scrolling?? Use the search and find the crypto you love.
The three horizontal lines at the top left take you to the navigation drawer where you can find:
• Portfolio
• Cryptocurrency Converter
• ICO Calendar
• Bitcoin ATM
• Twitter Updates
👈 Pressing 💜 on the Home screen will magically teleport you to the Favourites section, here you can quickly see all your favourite cryptocurrencies 😊
€£$ - Currencies supported: USD, BTC, AUD, CAD, EUR, GPG, HKD, INR, JPY, SGD(...more to come)
- Loong press on any coin to add it to price watchlist or set it as favourite
- Coin details & Charts - price history on the last 24h, week, month, 3 months, year and lifetime
- Exchange Markets enables you to check the exchanges for each coin.
What can this application do?
✓ Launching the app takes you to the Dashboard where you can find crypto market data and Top 10 Gainers/Losers
✓ Simply click on the coin and it will take you to a different screen with: Coin Details, Charts, Alerts and Exchange Markets 😊
✓ News section to keep you up to date with latest news from CryptoCoinsNews, CoinTelegraph and Coindesk
✓ In the Coin Details/Charts/Alerts section you can share the coin details with friends
Note: Please do not hesitate to contact us at ksharkapps@gmail.com if you experience any problems with the app and also if you have any suggestions to help us improve your experience. Thank you. Every little thing helps.
Follow us on:
Website - http://coinapp.tech
Facebook - https://www.facebook.com/thecoinapp
Instagram - https://www.instagram.com/coin.app
Data is sourced from Coin Market Cap but app has no affiliation with CoinMarketCap.com
© 2018-2019, KShark Apps, All Rights Reserved, unless otherwise stated
P.S. If you enjoy the app, please feel free to rate us and leave a comment. This helps us to grow and stay motivated 😊 Enjoy!
☆ Please rate us 5 stars to support the app, we will be forever grateful.
☆ If you encounter any issues, feel free to reach out to support@ksharkapps.com and we will revert back to you in 24 hours

v 2.8
- Fix bug with crypto alerts on oreo devices
- Added Coin score

v 1.8
- First Release
- Track Crypto prices and set price alerts
- Monitor crypto price trend for a day, week, month or 6 months
- Stay ahead with latest crypto news and tweets by influencers
- Maintain a crypto porfolio
بخشی از حجم دانلود فایل این برنامه متعلق به فایل دیتای آن است که به صورت اتوماتیک دانلود و نصب خواهد شد. این برنامه جهت اجرا به این فایل‌های دیتا نیاز دارد که مایکت به صورت اتوماتیک فرآیند نصب آنها را انجام خواهد داد.
بقیهٔ برنامه‌های این سازنده