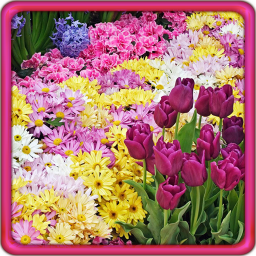 Garden Flowers Live Wallpaper
Do you love garden flowers? If you want the latest and greatest garden flowers on your screen! Find your favorite flowers and decorate your phone screen with beautiful pictures of flowers. You'll be able to spend more time enjoying even more beautiful blooms, from spring through summer and into autumn. Lavender, lotus, daisies, lilies, roses, sunflowers, tulips and many more kinds of flowers now can be your mobile wallpaper. "Garden Flowers Live Wallpaper" is the perfect app for you!
Some people are amazed by perennials, with all their varieties of bloom type, color, and size. Other people turn to a striking collection of annuals for a burst of color throughout the growing season. Whatever "garden flowers" you prefer, or if you like them all, here are pictures of all garden flowers specially created for you. Download ✿Garden Flowers Live Wallpaper✿ and enjoy picture-perfect annuals, perennials, bulbs, and roses in the garden and on your screen.
Flowers make us feel better. There are thousands of different varieties of flowers. Whether you like daisy, lily, rose, lavender, sunflower, tulip, lotus, chrysanthemum, orchid, iris, all of them and more different types of flowers can be your mobile wallpapers. Amazing free flowers wallpaper is the most popular app for Android™ that will make you fall in love with all types of flowers.
Enjoy the serenity of nature wherever you are! If you enjoy the tranquil sights and sounds of the garden, ✿Garden Flowers Live Wallpaper✿ gives you a soothing, creative experience to be enjoyed over time and shared with your friends and loved ones. Get this breathtaking "flower wallpaper" and enjoy.
This is the most beautiful "live wallpaper" ever! This beautiful free ✿Garden Flowers Live Wallpaper✿ can be a perfect gift for your best friend who adores flowers. These awesome bouquets of beautiful red roses, white roses, pink roses, gentle white daisies or stunning tulips will never wilt. These awesome "flower pictures" bring you the most amazing red flowers, yellow flowers, white flowers, pink flowers, blue flowers and purple flowers. Find ✿Garden Flowers Live Wallpaper ✿ on app store and download it right now. Share free wallpaper with your friends and family and enjoy beautiful flowers wallpaper on your phone screen! Stunning "flower images" are waiting for you.
*Android™ is a trademark of Google Inc.
بخشی از حجم دانلود فایل این برنامه متعلق به فایل دیتای آن است که به صورت اتوماتیک دانلود و نصب خواهد شد. این برنامه جهت اجرا به این فایل‌های دیتا نیاز دارد که مایکت به صورت اتوماتیک فرآیند نصب آنها را انجام خواهد داد.
بقیهٔ برنامه‌های این سازنده