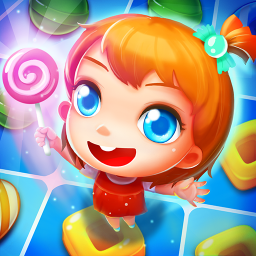 Candy Wonderland Match 3 Games
MATCH MATCH MATCH You CAN'T STOP PLAYING.
Candy Wonderland - the match 3 games free is a fun casual puzzle games with lots of crazy yummy candy and lots of blast fun.
One of the BEST and FREE candy games to play offline without wifi or internet! Enter the wonderland, candy adventure through the candy factory, dress up the candy maker, create her own candy recipes and make the candy blast.
Level up throughout the candy kitchen, the rcandyman starts with jelly candy, produces candy apple, make up frozen candy, matching ice cream candy, remove candy block, bomb the cheese cake. New 2016 levels updated regularly to the original game for an endless candy love.
Canderland features:
• Plenty rewards to give out to make the game playable for days and nights.
• Challenge puzzles for brain teasers.
• Many many game modes, Naughty kids, Lovely Animals ... !
• Sweet Candy & Cake will leave you hungry for more.
• Helpful magical props to help with friends with challenging levels!
• The more candy you crush, the more score you will get!
• Rich visual graphics and in-game experience!
• Sync your data with facebook to move android devices to any other devices.
Play the amazing candy games in airport, at your leisure, be the candy mania to share your candy camera with candy selfie. This amazing candy journey is a family games for kids and adult.
More Games and home games
https://play.google.com/store/apps/dev?id=5805991345744362578
Like us on facebook
https://www.facebook.com/AECanderland
More and more mushrooms!15 new levels about mushroom tree is coming!
Update the game and remove the mushrooms to protect your candies!
بخشی از حجم دانلود فایل این بازی متعلق به فایل دیتای آن است که به صورت اتوماتیک دانلود و نصب خواهد شد. این بازی جهت اجرا به این فایل‌های دیتا نیاز دارد که مایکت به صورت اتوماتیک فرآیند نصب آنها را انجام خواهد داد.
بقیهٔ برنامه‌های این سازنده