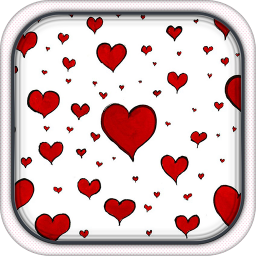 Sweet Hearts Live Wallpaper
💚 For all the romantic people and souls in love, there is a new "heart live wallpaper" on the market! Sweet Hearts Live Wallpaper brings you a new collection of "love pictures" and "heart images" for your home and lock screens! Show your emotions wherever you are – these amazing background images are filled with animated white and pink hearts floating all around! Choose your favorite color of the wallpaper – pink, red, yellow, purple – or try them all! This is the "cutest wallpaper" for girls and boys who are not afraid to show their emotions! These romantic hearts will give your phone or tablet a passionate touch! Decorate your screen with beautiful red hearts and make every day a Valentine's Day! "Romantic wallpapers and backgrounds" will take your breath away! Amazing pictures of colorful hearts will make your day! Pink hearts, purple hearts and red hearts will be your daily dose of lo
ve! Download these cute wallpapers for girls HD 3D and fall in love immediately!
💝 How to set the live wallpaper:
- Long press on the home screen until the menu labeled "set wallpaper" comes out, choose the category "live wallpapers" and scroll to "Sweet Hearts Live Wallpaper".
- Choose your favorite "love background" image.
- When you download these "hearts wallpapers and backgrounds", you will get five lovely pictures; the rest of them will be unlocked during the next five days.
- If the wallpaper resets after the reboot, please move it to your device storage, instead of the SD card!
- Choose the speed and density of animated objects on your screen!
- "Heart themes" are ideal for HD phones and tablets!
💘 Cute hearts pictures will put you "in the mood for love"! Download the most "romantic live wallpaper" and say "I love you"! Hug someone and send a kiss with this brand new Sweet Hearts Live Wallpaper! When you need your daily dose of romance, just glance on your cool new app and see lovely hearts patterns! Watch "fluffy hearts" floating on your screen with this fun app for girls! Surround yourself with lots of soft heart shaped images and visit the romantic world whenever you want! Send these hearts images like "the most romantic gift" and say "Be my Valentine"! Let these heart cushions fulfill your desktop background! Download romantic "love images" and enjoy love!
💖 Beautify your phone with Sweet Hearts Live Wallpaper! Get this "love live wallpaper 2015" for phone and enjoy watching pretty "purple hearts" floating all over your "purple background"! You will be delighted with cute hearts image full HD on your desktop! This love background will make your mobile screen so romantic with its beautiful "love theme". Turn every day into St. Valentine's Day – this stylish app is perfect for all who have someone special or want to fall in love! Obtain the most wonderful pictures of love and hearts backgrounds HD that you could ever imagine! New sweet hearts appearing on the screen will fill you with passion and romance – grab ''purple heart'' and fall crazy in love with this brand new hearts wallpaper!
💕 Searching for cute wallpapers of romance and love? Download our new Sweet Hearts Live Wallpaper for free and bring a bit of romance into your life! This "heart background" will pretty up your desktop so much – definitely the best app for girls! Prepare for a real explosion of feelings and emotions! Beautiful romantic images and HD backgrounds of lovely hearts are waiting for you with this free download!
*** NO MORE CRASHES! ***
- Best update so far – eliminated bugs, improved performance!
- Stay tuned for future updates, we are bringing you more live wallpapers and other really cute apps!
- Thank you for your comments, keep them coming, they mean a lot to us!
بخشی از حجم دانلود فایل این برنامه متعلق به فایل دیتای آن است که به صورت اتوماتیک دانلود و نصب خواهد شد. این برنامه جهت اجرا به این فایل‌های دیتا نیاز دارد که مایکت به صورت اتوماتیک فرآیند نصب آنها را انجام خواهد داد.
بقیهٔ برنامه‌های این سازنده