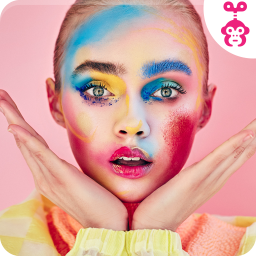 Beauty Selfie Camera - Makeup Selfie Camera
Beauty Camera: Candy Selfie photo Editor for Instagram, Snapchat, Twitter and Facebook.
Whenever, wherever, snap your candy selfie .
Beauty Camera is a special app to beautify your selfies.
Beauty selfie camera enables you to take a selfie of yourself, and apply all kinds of beauty and makeup features, by using a complete face beauty makeup kit.
Beauty Camera contains more than makeup styles and filters. It is a professional selfie camera because of HD camera, selfie filters, motion stickers, stylish makeup, quick snap, HD and many other amazing features.
InstaBeauty is a professional makeup editor & selfie editor, it contains a lot of makeup styles.
-Try different makeup styles just like Beauty vloggers!?
Take a selfie of yourself, and give it a flawless look, with numerous beauty makeup options like face foundation, in order, to tune your face, lipstick and blushes, getting rid of blemishes like acne or pimples, dark spots etc. using a blemishes remover, whiten teeth and skin, eye beauty enhancer, eye makeup and some amazing beauty accessories.
Complement your face makeup with some mesmerizing beauty accessories such as cooling glasses, hair band, earrings, crown, wigs and necklace.
What's the popular feature now? It's Makeup!
Yes! We have added makeup feature, and you can use InstaBeauty to makeup now! Variety of makeups, just for you! Choose your favorite colors of lips and blusher, then draw your eyes, teeth whitening. What an amazing you!
Beauties, let's makeup!
Get InstaBeauty today and share your beautiful photos on Facebook, Snapchat, Instagram and Twitter!
Key features of beauty selfie camera
1. Selfie camera option to take a pic.
2. Face foundation
Apply face foundation, which comes in different colors, in order to enhance your face beauty.
2. Blemishes remover
Eliminate the blemishes completely, by using the following options, of this blemishes remover.
Pimples remover
Use this acne or pimples remover, to completely remove the pimples or acne, for a good skin tone, and
make it acne or pimples free. Get a clear and beautiful skin, by eliminating
pimples or acne, using this acne or pimples remover.
Dark spot remover
Enhance your face beauty by getting rid of the dark spots.
Wrinkles remover
Eliminate the wrinkles and improve the skin tone.
Pigmentation remover
Improve your skin tone by removing any kind of pigmentation.
Remove the blemishes, manually as well as automatically, by using this blemishes remover. For a clear skin,
eliminate all the acne or pimples, using the acne or pimples remover.
3. Lip color changer
Enhance your face beauty, by the number of lip color options in store.
4. Eye makeup
Eye color changer
Number of options for changing your eye color.
Eye enlargement
Make your eye look beautiful by enlarging it.
Eye brightening
This eye makeup option enables us to brighten the eye.
Dark circle remover
Any dark circles around the eye can be removed by using this eye makeup option.
Eye lashes toner
Tune your eye lashes and enhance your face beauty by using this eye makeup option.
5. Makeup blushes
Use these makeup blushes, which comes in a variety of colors, in order to boost your face beauty.
6. Whitening makeover
Teeth whitening
Give your teeth, a fabulous look, by whitening it.
Skin whitening
Whiten your skin using this skin whitening option.
7. Blur makeup filter
Give your pic a blurry look by using the blur filter options of this face makeup app.
8. Beauty accessories
Variety of beauty accessories like sun glasses, hair band and many more, to boost your face beauty.
9. Option to view your photo before and after makeup.
Beauty selfie camera is one of the best makeup apps for a trendy makeover. Download this top face beauty makeup app, for free, for a unique makeover of your pic, and tune your face for a beautiful skin.
بخشی از حجم دانلود فایل این برنامه متعلق به فایل دیتای آن است که به صورت اتوماتیک دانلود و نصب خواهد شد. این برنامه جهت اجرا به این فایل‌های دیتا نیاز دارد که مایکت به صورت اتوماتیک فرآیند نصب آنها را انجام خواهد داد.
بقیهٔ برنامه‌های این سازنده