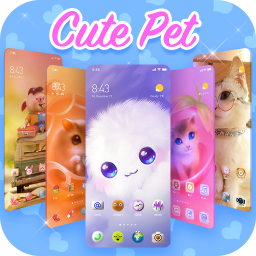 Cute Pets Themes - customized cat&doggy Wallpapers
Do you think your Android mobile phone is not interesting enough? Try this cute pet themes on the screen to make your background more stylish and lovely! Cute Pets Themes - Kawaii Wallpaper- customized cat&doggy is a free collection of themes tailored for people who love pets. You can see kawaii puppy dog, cute cat, adorable dolphin, dreamy unicorn, little bird, pink pig, lovely teddy bear and other amiable animals. Come and use kawaii kitty and puppy to make your wallpaper and icon look new. These themes apply to almost Android phones. Friendly and cute pets can heal your fatigue and make your main screen and lock screen more personalized.
Cute Pets Themes - Kawaii Wallpaper- customized cat&doggy will be the best theme collection for Android in 2019 which can meet almost all your needs. There are plenty of free themes for you to choose. You can select your favorite wallpaper and icon every day according to your preferences. And we will continue to add the most popular pets in this app, making your mobile phone stand out from the crowd easily.
An extraordinary screen experience for you:
🐳 Change your ordinary mobile screen to a fluffy pet theme
🐧 The cute puppy and kitten wallpapers gives you a unique visual experience of super value
😺 Customize your icon packs with fluffy cute and pink pets, such as furry ears and sweet kittens.
🐬 Numerous themes are offered to you free of charge. Whether you like lovely dogs, cats, rabbits, unicorns or teddy bears, we always have corresponding themes to satisfy you.
🐠 Dynamic effects make you feel like you have a touch for cute pets, which is a great attraction for cute animal enthusiasts.
🐥 Not only does this app provide a lovely pet lock screen, but also protects privacy and security inside your cell phone
🐻 Various kawaii puppy, cat, unicorn, teddy bear and other furry themes are updated every day.
😻 Help to speed up your Android phone and save power.
If you like puppy, The Cute Pets Launcher Theme Collection can make your screen have a super cute pet dog wallpaper. You can see corgi, Labrador, Husky, Teddy, Shepherd Dog, etc. Your icon pack can also be completely replaced by these fluffy puppy pets.
If you like kawaii kitty, our Launcher Theme Collection will provides you with furry cat themes full of pink color. Cute cup cat and cartoon kitten will fill your heart with warmth.
🎉 🎉 🎉 If you like Cute Pets Themes - Kawaii Wallpaper- customized cat&doggy, please write down your comments and give us five-star reviews. We will strive to create more themes for you.
Try the cute pet themes to make your background stylish and lovely
بخشی از حجم دانلود فایل این برنامه متعلق به فایل دیتای آن است که به صورت اتوماتیک دانلود و نصب خواهد شد. این برنامه جهت اجرا به این فایل‌های دیتا نیاز دارد که مایکت به صورت اتوماتیک فرآیند نصب آنها را انجام خواهد داد.
بقیهٔ برنامه‌های این سازنده