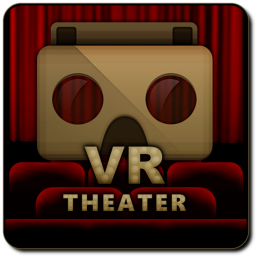 VR Theater for Cardboard
=== CAPTATIO BENEVOLENTIAE
There is no company or money of sorts behind this app: it's something I do in my spare time. If you like it, consider leaving a review or at least rating it.
Riccardo
=== SALES PITCH
Are you waiting for the perfect media player in proper VR?
Give this one a try, while you keep waiting!
Sporting great features, like:
• plenty of bugs
• sub-par graphics
• incomplete and out of date instructions
• clumsy controls
• limited features
• embarrassing User Interface
• limited movie formats compatibility
=== SUPPORT
Couch Games Software' on Google+: http://goo.gl/1WQNDl
VR Theater on Facebook: https://www.facebook.com/vr.theater
Email: couchgamessoftware@gmail.com
=== LONGER SALES PITCH
Enjoy your own 2D and 3D movies in a virtual cinema, for free (it also supports panoramic 360° and 180° movies)!
Full Virtual Reality: turn your head around and watch the environment.
2 (honestly bare) 3D environments, and dozens of photographic ones to choose from.
Works with all mp4 files (and with a bit of luck other formats...), can play movies from the web and other applications.
Supports many 3D movie formats, like SBS, Over/Under and Red-Cyan anaglyph, but plays normal 2D movies as well.
No ads, no in-app payments or statistics gathering: 100% free for personal use!
Doesn't require buttons on the headset to work.
Make yourself at home: check the 'Options' menu and configure the theater as you like!
The movie represented on the virtual screen ('Elephants Dream' (c) copyright 2006, Blender Foundation / Netherlands Media Art Institute / www.elephantsdream.org), can be freely downloaded in both SBS and over/under version at the URL: https://orange.blender.org/blog/elephants-dream-in-stereoscopic-3d
Still there? I can't believe someone is using this app, after all this time!

Google gave up on Cardboard and Daydream, but I'm glad you didn't: thank you!

This update fixes a bug that made the app crash on Android 11 and, possibly, introduces new ones.

Kudos to Greg L. for pointing the problem out.
بخشی از حجم دانلود فایل این برنامه متعلق به فایل دیتای آن است که به صورت اتوماتیک دانلود و نصب خواهد شد. این برنامه جهت اجرا به این فایل‌های دیتا نیاز دارد که مایکت به صورت اتوماتیک فرآیند نصب آنها را انجام خواهد داد.