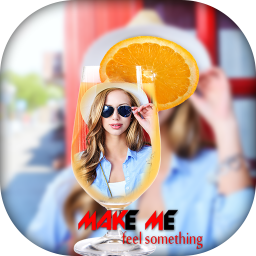 PIP Camera For InstaMag
Welcome to PIP Camera for InstaMag App in Android Market
Best Photo Frame for selfie! Make your photos extra fun with creative frames and PIP InstaMag layouts!
PIP Camera - InstaMag Photo Effect Editor is the best tool to shoot yourself. Make photos more lovely with most creative photography!
With Photo PIP Camera - InstaMag, you can add new frames to your favorite photos for Instagram, any picture will be perfect! This time, you can send your greetings to your friends and family members through the Photo collages, or print them into cards to send to your loved ones!
PIP Camera Photo - InstaMag Effect app is that the foremost attractive application thus on type your photos innovative and ingenious with further fun and massive vogue.
The All-In-One Photo Editor and Pic Collage Maker and Photo Grid and PIP Camera with many amazing Filters& Layout &Frames for InstaMag Photo Effect!
Including photo Collage, Sticker, amazing Filters, Professional Edit, selfie camera, PIP Camera, Secret Album and Special Effects with layout and frames.
App Feature:
♥♥♥ Photo Style ♥♥♥
We are Provided 200+ Different Photo Style. Our styles come in Portrait, Square, Landscape, and Stripes modes to fit all your purposes.
♥♥♥ Collage ♥♥♥
Loveable Classic and the most fashionable Photo Effect & Collage Maker! Provided Different More layout. Over 100+ Square, Portrait, Landscape, and Strips format and styles layout to suit all your artistic collage needs!
♥♥♥ Photo Editor ♥♥♥
Create and customize a photo collage by editing its layout, background patterns or easy color picker and spacing. Unique Two Finger Gestures to move photos around, Re-size Photos, Rotate Photos.
♥♥♥ Filter ♥♥♥
50+ Filter Photo Filter Effect are Available. Over a dozen powerful and must-have photo editing functions such as Filter, Text, Tilt shift, Scenes, Adjust, Lighting, Light pen, and etc! Come check it out!
♥♥♥ Photo Effect ♥♥♥
Add wonderful effects such as sepia, cherry, vintage, retro, Dazzling etc.
♥♥♥ Sticker ♥♥♥
Apply hundreds of stickers with funny, cute and girly themes. Make your photo more expressive! Pick a style that fits you, all without downloading a thing!
♥♥♥ Editable Text ♥♥♥
Write texts to your picture using different fonts. You can re size, color, and apply some cool text effects to them.
PIP Camera for InstaMag is best way to create memorable photos of you and family.
If you like this app than don't forget to give rate & review also for further update…
Thank you…
بخشی از حجم دانلود فایل این برنامه متعلق به فایل دیتای آن است که به صورت اتوماتیک دانلود و نصب خواهد شد. این برنامه جهت اجرا به این فایل‌های دیتا نیاز دارد که مایکت به صورت اتوماتیک فرآیند نصب آنها را انجام خواهد داد.
بقیهٔ برنامه‌های این سازنده