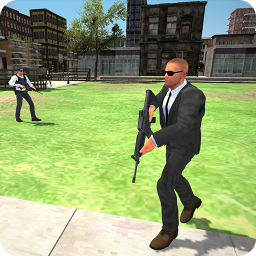 City Criminal Shooter : Best Sniper Hit
Fight for Survival of Enemy Attack is a 3D shooter game. You will play as a sniper special Shooter . Your task is to fight against enemies bases, and destroy City enemies. In this game you must save human from dangers enemies. Sneak into Enemies base, find them and zoom lens to aim your enemies! Deep breathing and pull the trigger. Find the best spot to aim enemies from rooftop. You must destroy all the enemies, then complete mission. You can use the sniper gun zoom lens, adjust the amplification factor by the Left side of the slider. Shooting enemies can get you score in awards, Gifts and money can be used to buy weapons. City Gun Shooter : Best Sniper Hit included 30 different levels, each level gradually become difficult from previous level. In this City Gun Shooter: Best Sniper Hit game, you have to be quick on the city roads to find the enemies and Eliminate Crime. Prepare your rifle and shoot enemies before they attack the survivors. Decide your target and look for the best shot. Point and attain a Best Shoot, become the best sniper defending the front-line and enjoy one of the top free offline shooting games. In Fight for Survival Enemy Attack game Different types of enemies, some are stationary, some are walking towards to you, some walk fast, some walk slow. You have to take different strategy, use different rule to shoot them. You as a enemies shooter will have to do enemies shooting while breaking enemies defense and protecting yourself from enemies attack and enemies assault using either sniper shooting of a sniper shooter or any other gun which can easily stop the enemies waves and clear the enemy city from enemies attack. Fight for Survival Enemy Attack is story based missions to rescue citizens from shooting enemies. You can use variety of sniper guns for action missions. Stunning 3D environment with realistic animations provided to enjoy sniper shooting. Amazing sound effects provided for this shooter game to make the fun double. Shoot enemies with assault rifles and modern snipers to eliminate enemies.
Features
---- Action game.
---- Realistic first person shooter game
---- Efficient controls and easy game-play
---- Multiple weapons
---- Variety of enemies
---- Stunning sound effects and realistic visuals
---- 30 mission
---- Amazing & special Blood effects.
---- Realistic & HD graphic.
بخشی از حجم دانلود فایل این برنامه متعلق به فایل دیتای آن است که به صورت اتوماتیک دانلود و نصب خواهد شد. این برنامه جهت اجرا به این فایل‌های دیتا نیاز دارد که مایکت به صورت اتوماتیک فرآیند نصب آنها را انجام خواهد داد.
بقیهٔ برنامه‌های این سازنده