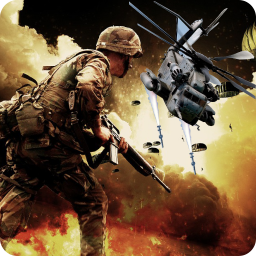 Gunship Heli : Surgical Air Strike
Gunship Heli Surgical Strike is one of the best helicopter flying game, In which you have to get into the seat of a gunship gunner and shoot down enemies with Strategy and complete different Surgical Strike targets. In Gunship Heli Surgical Strike you will be given challenging tasks, which will test your shooting and fighting game skills. Do Surgical Strike with Gunship Helicopter in 5 different type of helicopters models for fighting in Enemy war zone. In this helicopter fighting game, 15 different levels are included.Sit in gunner seat of the most muscular helicopters. Launch the attack on the most dangerous enemies now! The enemy is very powerful but you are well-trained and cleaver striker. You have enter in the Enemy war area and you need to target their diploid area camps, ships, tanks and other equipment. So just show your technical skills and destroy the enemy.Gunship Heli Surgical Strike comes with 15 different levels with a different missions and different environmental areas like Desert, Mountain and deep sea. In 1st level six enemies are included, in second level you must destroy 6 towers to complete the mission. Some Enemy groups have occupied several area of yours, so quickly take control of the most powerful gunship helicopter and load missiles and strike against them to defeat them and win this battle war. The Enemy groups are also ready to attack on you. They have dangerous guns, Jeeps with guns and rocket missile to attack and destroy you, so once again, we alert you to keep yourself active and strike before they strike on your gunship helicopter. In 4th mission 2 boss are used, it's very powerful, you need extra straggle to do surgical strike them. In 5th mission two ships are included, if you destroy the ships then you will complete the mission. In 6th mission two building are included, you must destroy the buildings through gunship helicopter and complete the mission. In helicopter flying game levels are gradually difficult from previous levels. Guide your helicopter to the right place and place yourself in a very clever position so that you can maximize the onslaught on the rival base. To pilot a helicopter in flying games is a very difficult task, it requires a lot of skill and hard work to become a expert in flying games. In mission 7th six tanks are includes, in 8th mission 8 turrets are included and mission 9th ten tanks are used, to complete these missions you must destroy all of them. Your cautious helicopter is equipped with weapons and armory to show down enemy battleships. It's an ultimate air conflict and a gunship war between you and enemy fleets. Do some helicopter adventures, your sole duty is to destroy enemy battleships, in this bloody war otherwise you will be failed.In Gunship Heli Surgical Strike game next levels are used different tanks, boss, turrets and ships,to complete all missions, you must destroy all of them.
To successfully complete all missions, take cover in the skies, keeping away from the enemy trackers and secretly taking out the mighty tank army to pieces. Keep a strong and steady aim, along with extremely accurate flight seamanship skills to take down enemies. Be cautious though, you will be in for a tough fight if even one of the enemy trackers are able to spot your position, as the anti-aircraft guns will be immediately position, which will make life even more difficult for the best fighters.
Features:
----Interesting sound effects and graphics
----Realistic control and perfect animations
----Tap on the shoot button to shoot.
----15 different mission
----Different types of Gunship Helicopter.
----Heavy equipment and ammunition.
----Extreme war environment!
بخشی از حجم دانلود فایل این برنامه متعلق به فایل دیتای آن است که به صورت اتوماتیک دانلود و نصب خواهد شد. این برنامه جهت اجرا به این فایل‌های دیتا نیاز دارد که مایکت به صورت اتوماتیک فرآیند نصب آنها را انجام خواهد داد.
بقیهٔ برنامه‌های این سازنده