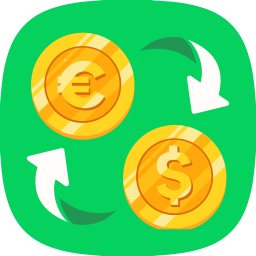 Currency converter - Money exchange rate us dollar
If you are looking for a reliable money exchange rate us dollar app that will help you get the fastest and most accurate rate exchange money available then the money converter all currency app is your best choice!
Currency converter with friendly interface, easy to use to convert foreign currencies and exchange money abroad in just 1 second. Not only that, the foreign exchange currency converter app also helps you compare global currency rates to ensure you can compare foreign currency rates in all countries around the world. The globe convert currency and units app and coin currency converter ensures you have the best prices at the current exchange rates when exchanging foreign currency
🌟 The salient features of the professional rate exchange money 🌟
👉 Modern interface, scientific layout of app makes it easy to use and track the exchange rate fastest
👉 Change and track currency rates in 5 countries at the same time in euro exchange calculator
👉 The smart system automatically updates the currency unit according to the user's current location
👉 Easy to use convenient calculator to compare prices by using rate exchange money
👉 Support globe convert currency and units in all countries all over the world
👉 Detailed graph for easy tracking of exchange rate, changes currency conversion through each optional timeline
👉 Feel free to adjust the list of currency changes as you like in foreign exchange currency converter
👉 Customize tasas de cambio interface display style for converting foreign currencies according to your preferences
👉 The rate exchange money capacity is extremely light, running smoothly
👉 Save last updated exchange rate when offline
The globe convert currency and units is extremely useful in daily life, helps you to convert currencies with the best exchange rate and the latest currency changes, ensuring absolute accuracy. This is the foreign exchange currency converter needed for travel, shopping, financial commerce, securities or personal purposes. Download the rate exchange money and cash converters app now to catch the latest and fastest updated exchange rate with just 1 click!
We are trying to make money exchange rate us dollar better day by day. Any suggestions on the feature development and experience sharing during using the rate exchange money, please send to the email address: feedback.govo@gmail.com to get support as soon as possible by our development team.
And don't forget to give money converter all currency 5 stars to encourage our work.
🌟 What's new in this version?
Add more languages: Spanish, Arabic, Turkish, Vietnam, Italia, Urdu

👉 Update now to experience the latest version!
بخشی از حجم دانلود فایل این برنامه متعلق به فایل دیتای آن است که به صورت اتوماتیک دانلود و نصب خواهد شد. این برنامه جهت اجرا به این فایل‌های دیتا نیاز دارد که مایکت به صورت اتوماتیک فرآیند نصب آنها را انجام خواهد داد.
بقیهٔ برنامه‌های این سازنده