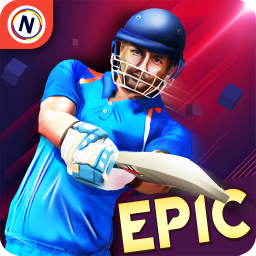 Epic Cricket - Best Cricket Simulator 3D Game
The quintessential game of Cricket is about to witness the most radical transformation ever since the advent of modern ODI and T-20 Cricket formats on mobile gaming platform with EPIC Cricket!
Nazara Games and Moong Labs is proud to present "EPIC Cricket – Best Cricket Simulator Game" built for the truly passionate fans of Cricket game all over the world!
We have developed EPIC Cricket with one and only one objective in mind, i.e. to fulfill the desires of the millions of followers of the game to have the most complete and immersive experience of playing Cricket on mobile platform like never before.
The team behind the game has deployed complex algorithms and techniques to build an amazingly realistic experience that will leave a lasting impression on gamer's visual and auditory senses.
GAME FEATURES:
+ HD quality visuals with life-like international players
+ Full match live commentary
+ Full repertoire of modern batting and bowling styles (from reverse sweep to helicopter shot, and googly to doosra)
+ Players with matching capabilities to international stars
+ All major Cricket playing nations
********************************************************************************************
Epic cricket respects your privacy, does not store any personal information and does not allow you share this information.
We do require a few additional Permissions to function:
1. READ_EXTERNAL_STORAGE & WRITE_EXTERNAL_STORAGE
These permissions are needed to cache and read ad content during the game play
2. ACCESS_COARSE_LOCATION/READ_PHONE_STATE/ACCESS_FINE_LOCATION
These permissions are needed to show suitable ad content for targeted user for better ad experience
3. GET_ACCOUNTS
This permission would use your google account name and picture to show it on the leader-board once you sign in
4.RECORD_AUDIO
This is required for zapr SDK which is integrated with this app for the purposes of profiling the device on media consumption and other device data and utilizing the same to target relevant content and ads to the device ('Services') pursuant to the terms and conditions of RBL Services ('Terms of Use')
- Create your own team and participate in all new carrier mode
بخشی از حجم دانلود فایل این بازی متعلق به فایل دیتای آن است که به صورت اتوماتیک دانلود و نصب خواهد شد. این بازی جهت اجرا به این فایل‌های دیتا نیاز دارد که مایکت به صورت اتوماتیک فرآیند نصب آنها را انجام خواهد داد.
بقیهٔ برنامه‌های این سازنده