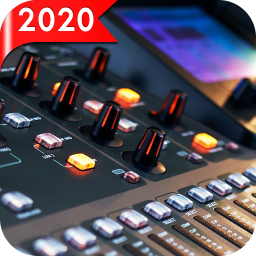 Music Player & Audio Player - 10 Bands Equalizer
High-Quality Music Player & Audio Player combines the built-in great sound effects to enhance your musical experience! Its powerful 10 bands equalizer provides the best musical experience for you! 🎺 🎸 🎻
Quick search all music/audio files of all format, finely design musical background, and with easy controlled widgets, playing music has never been so easy and enjoyable. 🎵🎧🚀
Change the speed and pitch of your songs and audio, and listen to your modified music. Start your fun way of listening to music now! 🎉 🎉 🎉
🔊 Amazing Sound Effects
- Custom sound effects: rude, solid, abound, strong, steady, resonant, amiable, tall, color, crisp, bright, express and rotate, reverse, balance, pitch
- Sound changer: Sound speed & sound pitch changer to change songs tone
- Music effect: Compress, Auto Wash, Phaser, Chorus effect
📣 Powerful 10-band Equalizer
- 10 bands equalizer: Presets includes Normal, Classical, Hip-Hop, Dance, Flat, Folk, Heavy Metal, Jazz, Pop & Rock
- Control volume easily with volume booster
🎵 Features:
- High-quality offline music player, song player, audio player, mp3 player
- Edit the song details (track name, artist name, album name)
- Scan all audio files automatically
- Quick search all your music songs
- Support all music and audio formats, like MP3, WAV, FLAC, AAC, APE, etc.
- Photo of song, artist, and the cover of the album
- Browse and play your music by playlists, songs, albums, artists, folders
- Plays song by folder
- Drag to sort the playlist
- Custom sound effects
- Set sleep timer
- Lyric support
- Easy to play songs
- Lock screen music play
- Slide left/right to switch songs
- Headset controls
- Notification bar and home screen widgets
- Ringtone cutter (Crop or trim music, cut audio, optimize the size of music, make smaller audio to set music as the ringtone)
- Share your favorite songs to friends
💎 Download this pure music player & audio player for free! Listen to your heart, enjoy your songs, get a little more from music player!
* Fix bugs reported by users
بخشی از حجم دانلود فایل این برنامه متعلق به فایل دیتای آن است که به صورت اتوماتیک دانلود و نصب خواهد شد. این برنامه جهت اجرا به این فایل‌های دیتا نیاز دارد که مایکت به صورت اتوماتیک فرآیند نصب آنها را انجام خواهد داد.
بقیهٔ برنامه‌های این سازنده