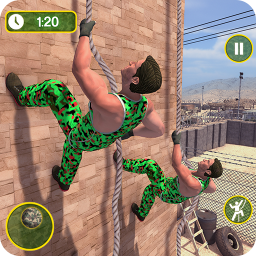 US Army Frontline Special Force Training Course
Get ready to become an excellent army commando of the year in this 3D simulator game!
Join the US army training school to accept the challenges and complete US military courses. Be a best US commando in the army training school to get the awards. You as a US soldier will face many military challenges. You will work as an American army hero in US Army Front line Special Force Training Course to fight with the rivals who will attack in your country with the lot of strong weapons and sniper shooters. The mission is to abolish all the monsters, gangsters and enemy who will destroy your beautiful peaceful country. You will work as a US army commando for the welfare of the super innocent community and for the military academy.
It's not only about military actions, this US Army Commando: Real Training Course 3D game is all about full actions, fighting, jumps, real commando training scenarios, etc. So get ready to be work and get trained in the summers and in cold weather, whether it is zero degree Celsius or 50 degree temperature, you should not give up, you have to work till whole days and whole nights for the super survival of all the community. Get the crazy difficult taste of challenges in extreme hot deserts, forests darkness, and pushups on muddy surfaces, climbing, jumping and many more real army school training missions with full excited challenges in the surroundings, but you have to survive at any cost as a trained real US commando. You will face life threatening situations in army training school that may lead to experience the near death experience but you won't fear it anymore in the battlefield against the enemy.
This US Army Commando: Real Training Course is about the transformation of an ordinary human being to real trained US army strong commando that will travel hardest in the difficult paths to achieve his goals and he will become the all-time runner and champion of real US army commando. You will exercise a real army course trainer of secret military mission to become a military commando school war hero. These all tasks are part of your army course training to become a super real champ in the US academy. Only a crazy person who would love to do some difficult and challenging duties as a real hero in the military force can be a part of the army training school of the year 2018. Play this ultimate full of action game in best 3D simulator to jump, crazy real actions, fight, exercise push-ups, military performance, shooting, weapons to become a real war hero.
This game is not for the normal human beings; the real army lover can love this game and play this crazy US army training game 100 times if he wants to join army in his young age. You have to become a fully trained super army US hero and you have to pass through all this tough army school training of months, Once you play this US Army Commando: Real Training Course game you will prove yourself as a great fighter, sniper attacker, gun shooting hero, while competing with the rival powers to rescue your grand country of innocent people. Make your country proud by becoming the real army US training hero and prove yourself a great real US commando of the year 2018.
You have to complete all levels with full stamina and passion of this boot camp training to qualify as a soldier real commando in military army school. You have to get up earliest in the morning for proper exercise; physical activity and gun shoot training. After all these real commando activities in army US course you will again join the training and continue the gun shoot training and physical training until afternoon.
Key Features :
1. Shooting, fighting, 3D actions
2. Army training mission to complete US commando course
3. Amazing 3D video play and HD graphics
4. Secret military mission
5. Full of real crazy challenges and military missions
بخشی از حجم دانلود فایل این بازی متعلق به فایل دیتای آن است که به صورت اتوماتیک دانلود و نصب خواهد شد. این بازی جهت اجرا به این فایل‌های دیتا نیاز دارد که مایکت به صورت اتوماتیک فرآیند نصب آنها را انجام خواهد داد.
بقیهٔ برنامه‌های این سازنده