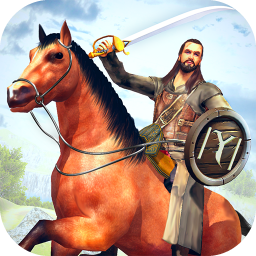 Ertugrul Ghazi: Sword Fighting of Ottoman Empire
Let's Enjoy Ertugrul Ghazi 2020: Ottoman Empire War Game! WELCOME to kai Kabila where you have to fight against Crusaders and the Mongols. And be the expert warrior of this shooting Game: Ottoman Empire War 3D.
As a warrior your duty is take ride on horse & start mission by showing archery shooting skill. In Ottoman Empire make strategy under the command of Ertugrulbey with sultan army against enemies. Kill every enemy on the way & be a real hero of Ertugrul ghazi war 2020. Enjoy number of levels with multiple missions in kai Kabila. Fight with enemies on the spot & win the battle to occupy the realistic stronghold of enemies in Ertugrul Ghazi: Rise of Ottoman Empire Games. Start mission & become the Ottoman capital powerful man under the power of Osman.
Wait is over so download Ertugrul Ghazi 2020: Ottoman Empire War Games in your devices. Because as a super warrior you one best fighter in Ertugrul Ghazi sword fighting game 2020. Use sharpest sword fighting skill, best archery shooting to win the game. Number of levels with multiple missions. Keep eye on power. Your enemies are clever try to hit & kill in short time. But use mind tricks to use knife on the horse. Before starting each mission draw a plan for destroying the enemy's houses because they are training their men for fighting in Ertugrul Ghazi: War of Ottoman Empires. Now enjoy sword fighting with your friends but don't forget rate us! Your Feedback & Review Important for Creating more challenging levels.
Features Ertugrul Ghazi: Sword Fighting of Ottoman Empire
- Horse riding missions with sword fighting
- Enjoy Kai Kabila cultural and interesting things
- Use archery shooting skill and take down enemies
- Addictive Sword fighting missions with HD camera view
- Enjoy thrilling stealth assassin missions like a ninja assassin
Improved Game Play
Fixed Minor Bugs
بخشی از حجم دانلود فایل این بازی متعلق به فایل دیتای آن است که به صورت اتوماتیک دانلود و نصب خواهد شد. این بازی جهت اجرا به این فایل‌های دیتا نیاز دارد که مایکت به صورت اتوماتیک فرآیند نصب آنها را انجام خواهد داد.
بقیهٔ برنامه‌های این سازنده