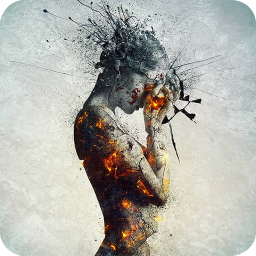 DSLR Photo Effects & Editor
Edit your photo instantly with this Awesome powerful Photo Effect app, which is one of the best photo editing tool in android. Get the best photography art in your photos with large number of amazing photo effects.
You can create good colour effect photos with this photo editor app which will let you create beautiful photos. This app comes with beautiful photo frames as well.
Just select one picture or take it from camera and get large varieties of photo effects, overlays, enhances options to beautify your picture. You can also use red eyes removal option in this pic Editor Tool.
You can make your selfie best using this Effects. We have added more then 50+ effects like Autumn, Twin, Contrast, Pencil, DSLR effects, Blackout, Engrave, Smart Blur, Desaturate, Border, Desert, Draft, Displace, Reflection, G & B, Shadow, Ghost, Lomoart, R & B, Emboss, R & G, Drops, Saturation, Sharpen, ThePast, Oil-Paint, Swap, Snow, Polaroid, Oval, Light, Sharp, Bewitching, FishEye and so on..
Features
★ HDR, photo effects & layer editing
★ Drawing paint tools
★ Added Motion Sticker & other Stickers like cap, goggles, Stars, kiss, hair and so on.
★ Adjust color, add effects, frame, clone and draw on your photos
★ Curves interface that allows fine-tuning of colors
★ Artwork effects & cartoon filters Picture editor
★ Adding text, images or shapes
★ Focus your picture with Radial and Linear Vignette shape
★ Easy rotation, crop or resize of photos
★ Make your own meme
★ Smart Blur effects
★ Perspective, red-eye, white balance and backlight corrections
★ Easily edit with the touch and pinch-to-zoom interface
★ Use photos from your gallery and camera
★ View, edit, or delete your edited Image. Also re-edit that image
★ Save your final result to your gallery and on your SD card
★ Sharing with your friends, family and followers on Facebook, Twitter, Flickr, Instagram and more social apps
★ Save images in Ultra HD 4K resolution (device dependent)
We would love to hear your suggestions & feedback. Send feedback on parmarfalguni2255@gmail.com
- Support Android Pie Devices
بخشی از حجم دانلود فایل این برنامه متعلق به فایل دیتای آن است که به صورت اتوماتیک دانلود و نصب خواهد شد. این برنامه جهت اجرا به این فایل‌های دیتا نیاز دارد که مایکت به صورت اتوماتیک فرآیند نصب آنها را انجام خواهد داد.
بقیهٔ برنامه‌های این سازنده